SaaS2Cloud powered by CloudAlly provides users with two types of backup reports.
The original Tasks Overview report summarizes all backup tasks and failed/partially completed backups.
The second report, called Failure Details, provides information about each backup failure, grouped by backup task, and in-line links to the failure log.
Both options are available on the CloudAlly Notifications screen.
Opening the Settings screen
Log in to CloudAlly and click Settings.
Click Notifications.
To activate report notifications, click the toggle to the ON position.
Check the option next to the report format you want to receive by email: tasks overview or failure details.
Click Save.


Previewing a Failure Report
A Preview button opens a screenshot for each report.

Preview
The Failure Details report gives users immediate access to key information, such as a list of failures by task and email account.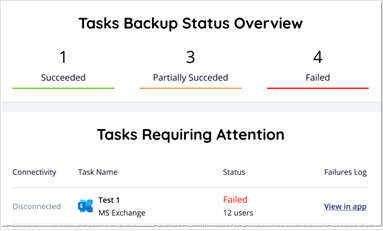 Email
If you open a Failure Details report in your email:
click the Detailed Failure Log button to get quick access to the online log
click the More Info link to learn about individual failures

Was this article helpful?
That's Great!
Thank you for your feedback
Sorry! We couldn't be helpful
Thank you for your feedback
Feedback sent
We appreciate your effort and will try to fix the article